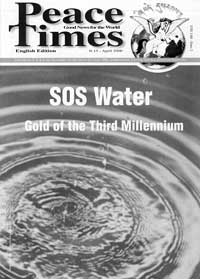 PEACE TIMES
Good News for the World
Founded on the 9th of October 1996 by T.Y.S. Lama Gangchen
Director: Gloria Pozzi
English Edition: Isthar D-.Adler, Sharon Dawson
Layout: Enzo Di Lauro
Photos: I. D-.Adler, C. Back, S. Dawson, F. Prevosti

LAMA GANGCHEN
PEACE PUBLICATIONS
Via Marco Polo, 13 - 20124 Milano
Tel: +39 02-6590442


Fax: +39 02-29010271


President: Gloria Pozzi


Vice presidents: Franco Ceccarelli, Patrizia Tursini

- Authorised by the Milan Tribunal, No. 661 - 4/12/96
Printed by Work Team Sas Via Settembrini 15, Milan, Italy

LGWPF UN affiliated NGO


United Nations supporter


According to the law protecting personal data - 675/96,


the editor guarantees maximum confidentiality as to the information given by subscribers, as well as the right to

freely alter or cancel all or any part of it.

«May Peace Prevail on Earth»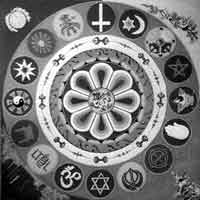 Peace Please!
EDITORIAL
Life is made of this
Millions are still deprived of the right to clean water
by T.Y.S. Gangchen
CURRENT AFFAIRS
«The United Nations for the 21st century»
UN Headquarters 22nd to 26th May Millennium Forum:
Non Governmental Organisations and Civil Society for
a collective voice and more effective role in global
decision making
by Isthar D. – Adler

Madrid: sweet tasting medicine
From 5 to 7 May, congress on natural health care. Traditional Tibetan methods in the forefront, but also debates on cloning and new molecular principles
by Carmen Carrillo

Reduce laziness
By Lama Michel

Austria calling for peace
Congress, peace bell, inter-religious dialogue & award:
all in the name of peace
by Isthar D.- Adler

Welcome to Geneva 2000
From the 26th to the 30th of June the United Nations convene in Switzerland in Special Session for five year Social Summit review towards «the next step in Social Development»
by Isthar D.- Adler

United Nations Days to remember
International Year of the Culture of Peace
International Year of Thanksgiving
HUMANITARIAN
New life for 280 children
Help in Action: Victories & challenges in Kathmandu Valley
by Sharon Dawson
REPORTAGE
Third millennium peace proposals
Therapists, Educators, Ministers, Ambassadors at Nepal Congress "Reinventing Education and Medicine based on Non-Violence"
by Isthar D.- Adler

Thailand: Path to progress
Buddhists meeting to he held on April 23rd in support of the creation of a permanent Spiritual Forum for World Peace at the United Nations
by Cosy Back

Albagnano, all systems go
Courses and retreats at the new meditation and healing centre. Rented local community residence.Trijang Choktrul Rinpoche. visits. 9 statues of Buddhas reach home!
by Gabriella Lo Re

The root causes of all illnesses
The three methods of diagnosis in natural Tibetan medicine to discover and remove energetic blockages responsible for psycho-physical disturbances. Imbalances of 3 "humours" & importance of correct diet
by Carmen Robustelli

Gangchen Monastery, operation water
Fundraising in progress to provide comprehensive water system to a Tibetan village
by Sharon Dawson